Ashland Bankruptcy Attorney
Get a Bankruptcy Lawyer Near Me
If you are facing financial hardship and thinking of filing for bankruptcy in Ashland Virginia you will need the services of a good Ashland bankruptcy attorney. With so many changes to US bankruptcy laws since 2005, it can be very confusing and overwhelming to try and go it alone.
At Fisher-Sandler, LLC in Richmond VA we have a combined 60+ years of bankruptcy law experience. Nathan Fisher, Michael Sandler, and Sharon Choi Stuart have filed thousands of successful bankruptcy petitions for residents and small business owners in the Richmond & Ashland area since 1999.
We specialize in Chapter 7 bankruptcy, chapter 11 bankruptcy, and chapter 13 bankruptcy. With thousands of successful bankruptcy cases filed since 1999, Fisher-Sandler in Richmond VA has the experience and know-how you will need when facing unscrupulous creditor actions. Call our Richmond office today at (804) 664-3643 to schedule your FREE consultation.
---
Bankruptcy Services in Ashland VA
If you are stuck with insurmountable debt in Ashland, you may think considering bankruptcy means giving up. Nothing could be farther from the truth. Filing a Chapter 13 or Chapter 7 bankruptcy may be a way to wipe the slate clean. It can be a pathway toward fresh beginnings and renewed financial health.
Our Ashland Bankruptcy Services Offered:
– Foreclosure Defense
– Student Loan Modification
– Property Exemptions
– Tax Forgiveness
– Auto Repossessions
– Stop Creditor Harassment
Ashland Chapter 7 Bankruptcy Attorney
If you are drowning in credit card debt, medical bills, payday loans or other types of unsecured debt, Chapter 7 bankruptcy might be your path to a fresh start. This type of proceeding, also known as liquidation, can allow you to permanently wipe out debt in a matter of months.
Many people believe that filing bankruptcy will result in losing their home and property. That is simply not true. Bankruptcy is a form of financial help and a powerful tool for permanently eliminating insurmountable debts.
Among other benefits of bankruptcy, filing Chapter 7 will stop creditors in their tracks with the "Automatic Stay". They can no longer contact you, harass you or otherwise attempt to collect on your debts. Additionally, filing bankruptcy will halt foreclosure proceedings, repossession efforts, and wage garnishment.
What Is Chapter 7 Bankruptcy?
Chapter 7 bankruptcy is known as "straight" bankruptcy" or "liquidation." In Chapter 7, a list of all of your assets and debts is filed with the bankruptcy court. The court will appoint a "trustee" to represent the interests of your creditors and can sell your property to pay debts. In most Chapter 7 cases, however, your property will be "exempt" by law, and can't be sold to satisfy creditor's claims. When your chapter 7 case is over ("final discharge"), most of your debts will be erased. If you filed under Chapter 7 and your debts were discharged, you must wait 8 years before filing another Chapter 7.
---
Ashland Chapter 13 Bankruptcy Attorney
If you find yourself struggling to pay your bills and manage your debt in Ashland Va, you may be afforded a second chance through Chapter 13 bankruptcy. An experienced Chapter 13 attorney at Fisher-Sandler, LLC in Richmond can help you formulate an affordable plan that protects your property.
What Is Chapter 13 Bankruptcy
A Chapter 13 bankruptcy payment plan is commonly known as a "wage earner's plan." Chapter 13 bankruptcy is most appropriate if you have a steady job or other regular sources of income and can devote a portion of your disposable income to a monthly payment plan. Chapter 13 bankruptcy is also appropriate if you have large amounts of debt which is secured by collateral, such as home loans, car loans, or appliances and furnishings that you bought on credit. Chapter 13 bankruptcy in Ashland Virginia allows you to keep your assets while also becoming debt-free over time. In addition to your own financial responsibility, you may want to consider whether any of these loans were co-signed by friends or family members. Chapter 13 bankruptcy can protect them from having their property attacked to satisfy your debt.
---
Ashland Chapter 11 Bankruptcy Attorney
A Chapter 11 debtor is a "debtor-in-possession" and no case trustee is appointed but, instead, the debtor retains control over the process.
As soon as a Chapter 11bankruptcy petition for relief is filed in Ashland Virginia, the Office of the United States Trustee will schedule a Meeting of Creditors which is required by Section 341(a) of the Bankruptcy Code, where creditors are permitted to be present evidence why they should be paid. Creditors rarely appear for or participate in the Meeting of Creditors, however, and the real purpose of this meeting is for the OUST to interview the debtor(s) and determine if further investigation of the debtor(s) assets and liabilities is necessary.
---
Emergency Bankruptcy Attorney Ashland VA
Emergency bankruptcy filings are sometimes necessary in Ashland VA. Filing for Bankruptcy is a big decision that should be carefully considered. However, sometimes it is the best move for your financial situation, and sometimes you need bankruptcy protection immediately! Circumstances that call for an emergency bankruptcy filing may arise, and our Ashland Virginia bankruptcy attorneys can help. If you are facing a foreclosure or wage garnishment, bankruptcy may provide you with the protection from creditors as the Automatic Stay comes into play immediately and all collection action and lawsuits must cease.
Our Emergency Bankruptcy Lawyers in Ashland Virginia can assist you if an emergency situation should arise. Many times emergency situations happen with little or no warning. When these unfortunate events happen in a person's life, there is peace of mind knowing that our team of debt relief experts at Fisher-Sandler, LLC in Richmond VA and Ashland VA are there to assist you every step of the way.
---
Ashland Virginia – About
Whether you are a day-tripper from D.C. or a day-long road warrior on Interstate 95, Ashland is the perfect place to pause and enjoy a little small-town charm, friendly hospitality, and national hotel and restaurant amenities. Head to our visitor center, a 1920's train depot, for a point in the right direction:
Ashland is fortunate to have a mix of home-grown, unique restaurants and shops as well as popular national chains. Enjoy attractions from our historic train station to art galleries to live music venues to the Ashland Museum. There is a little piece of Ashland Americana for everyone.
Ashland is located in Hanover county, only 15 minutes north of Richmond and 1.5 hours south of Washington D.C. The town can be accessed via Interstate 95, Virginia Route 1, and the passenger Amtrak train stops right in the heart of our historic downtown district. In addition, Ashland is also the intersection of the nation's two longest bike routes, #1 and #76.
Located just 15 miles outside of Richmond, Ashland, Virginia, developed in the 1840s as a mineral springs railroad resort of the Richmond, Fredericksburg, and Potomac Railroad. WhenRandolph Macon College relocated to Ashland in 1868, the area took on the role of a typical college town and began to expand from 1 square mile to over 7 square miles. The eventual construction of U.S. Route 1 and I-95 earned Ashland its local title as the "Center of the Universe," due to its well-connected, central location within the state of Virginia.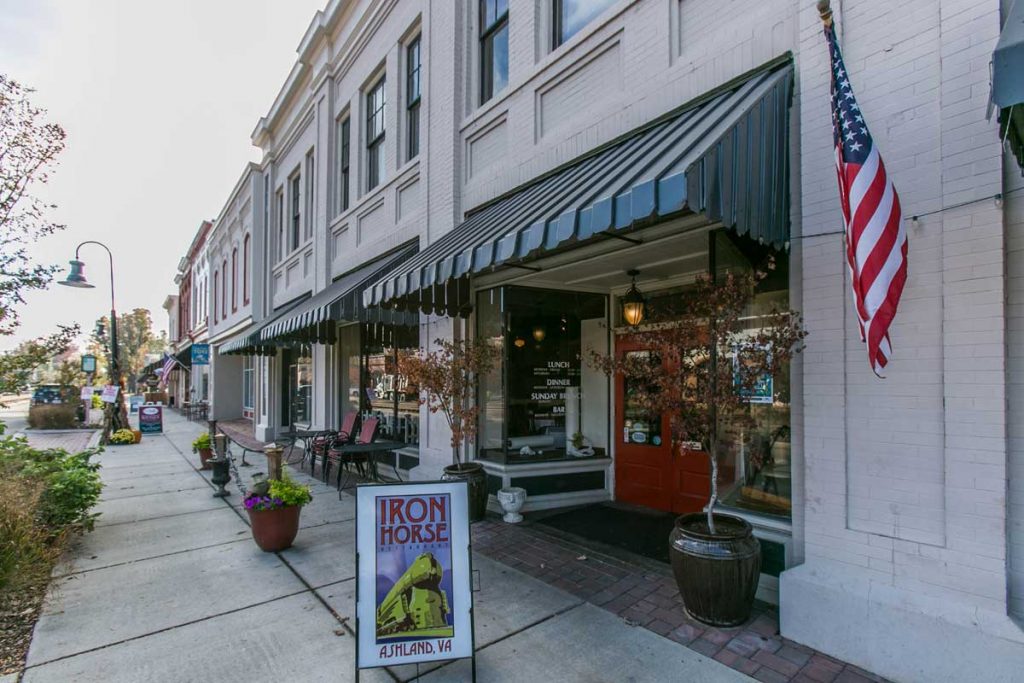 Source: https://www.ashlandva.gov/498/Visitor-Center-Train-Station & https://www.longandfoster.com/VA/Ashland
---
Other Cities Served in Hanover County:
Ashland
Ashland Mill
Atlee
Beaverdam
Doswell
Elmont
Hanover
Hanover County
Mechanicsville
Montpelier
Old Church
Poindexters
Rockville
Studley
Wicker Corner
Woodlawn
Hanover County Zip Codes Served:
22546
23005
23015
23024
23047
23059
23069
23102
23111
23116
23124
23146
23192